Ox Bow Brown Ale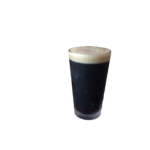 A traditional English Pub style brown ale.  Low hop bitterness with malty
and coffee flavors.  Brewed with Fuggle hops.
ABV 5.0%  IBUs ≈ 28.8
Little Blue Kolsch

A German style ale.  A light, crisp and slightly fruity beer with low hop bitterness. Brewed with Tettnanger hops.
ABV – 6.3%  IBUs ≈ 22.4
Liberty Farm Pale Ale
An Americanized pale ale with more liberal hopping
using Northern Brewer and Cascade hops.
ABV – 7.1%  IBUs ≈ 32.3
India Pale Ale
Currently not on Tap
 ABV 7.2%  IBUs ≈ 53.7
Oregon Trail Red Ale
ABV 6.3%  IBUs ≈ 22.4